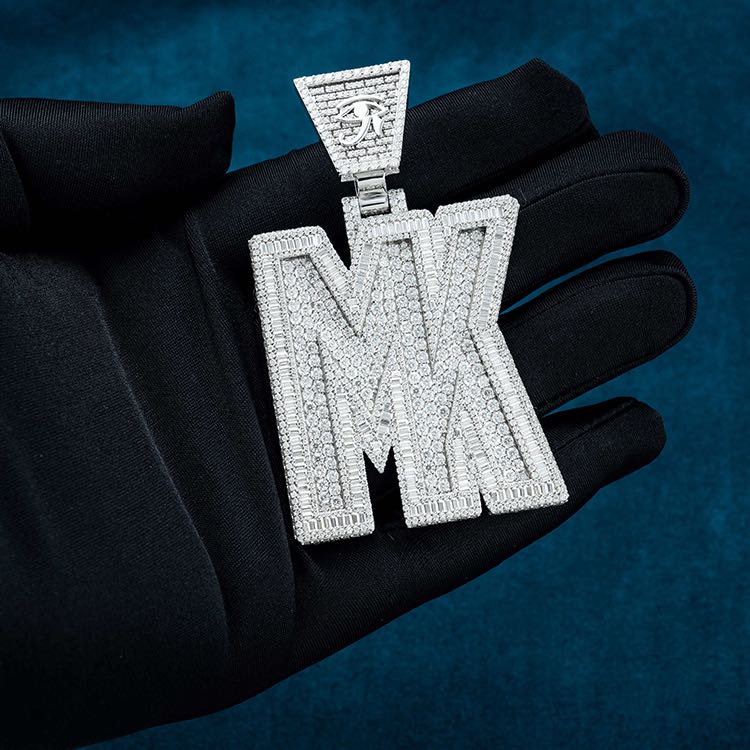 "MK" Custom Moissanite Pendant 14K White Gold
ICECARTEL exclusive "MK" Custom Moissanite Pendant 14K White Gold is now available, made of 925 sterling silver and PVD plated with a thick layer of 14K White Gold.
This moissanite custom pendant is iced out with round cut, baguette colorless (D-Color), VVS moissanite flawless diamonds, placed in a prong & pave diamond setting. All of the diamonds on this custom moissanite letter pendant are guaranteed to pass the diamond tester.
The total weight of this customized pendant starts from 99.9 grams (2 letters) , with a total diamond carat weight of 18.70 CTW however, the exact weight will vary depending on the Size. The bale of this custom design moissanite pendant measures exactly 50.8x44.8 millimeters.
This moissanite pendant is custom made for every order. Please allow up to 4 weeks for manufacturing. We can customize this pendant any way You want. You can enter Your custom text in the "Type Your Letters" customization box.

This ICECARTEL moissanite custom name pendant ships insured, directly to your doorstep. You may need to sign upon delivery.

Passes Diamond Tester!
Production Time:

2-4 Weeks
Shipping Time:

4 Business Days (+2 days processing time)
Package Includes: Official GRA Moissanite Certficate,

"MK" Custom Moissanite Pendant 14K White Gold
ICECARTEL Jewelry case is currently out of stock and is not included with this item!
Please fill atleast all boxes marked with "
*
" to submit the form.
Not sure about the design? Contact our team of expert jewelers for free and we'll help you come up with the design of your custom pendant.
Message us @icecartel on Instagram
Item Details
FAQ
Size Chart
1.5in
2in
2.5in
3in
3.5in
4in